Silicium 01
Audiovisual performance
Show: Click Festival at The Culture Yard (Elsinore) May 16 2015 · Partner: Bjørn Svin (music & dance) · Co-producer: The Culture Yard · Funding: Danish Arts Foundation
An electrifying performance that celebrates the arrival of virtual reality.
Silicium, a visual music duo, presents their debut performance that imagines virtual reality as a rugged, crystal-like world as if it was contaminated by the silicon that forms its very foundation. As the performer, who is also the music composer of the work, enters this new reality, his body undergoes a violent transformation into digital form. When he regains control of his new self, he discovers how his music and movement are interconnected with the visual environment. He then escalates the performance and persuades the audience to join him in a euphoric rave.
The project investigates the potential of the 4D Box stage to create novel concert experiences using mixed reality. The stage uses reflective foil (also known as Peppers Ghost), stereoscopic projection, and body tracking to create the illusion of performers standing inside an interactive virtual environment, as well as the illusion of objects that are both digital and physical.
Silicium has explored various collaborative processes and technologies for achieving audiovisual unity through a series of performances. In this particular performance, the music is pre-composed and played back, while the graphic elements are improvised live using a touch interface, sound analysis, tempo, and sensor input.
The performance is designed for a standing audience wearing 3D glasses and has a duration of 30 minutes.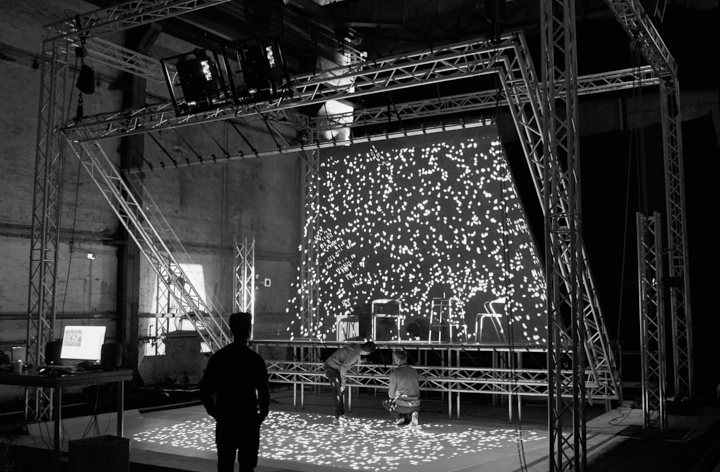 Kindly supported by