Chronicle of Lightyear
Theatre performance
Visual art and live system development · Direction: Tung-Yen Chou · Shows: Taiwan International Festival of Arts TIFA at National Taichung Theatre (Taichung) 08-10 Apr 2022, Quanta Arts Foundation (Taipei) 28-29 Oct 2015, Taipei Art Festival at Taipei National University of the Arts (Taipei) 11-19 Aug 2018, Click Festival at The Culture Yard (Helsingør) 20-22 May 2016, Click Festival (pre-show) at The Culture Yard (Helsingør) 14-17 May 2015 · Partners: Chou Tung-Yen (direction, text) , Mikael Fock (direction consultancy, 4dbox development) , Kasper Daugård Poulsen (acting & text) , Wei Chun-Chan (acting) , Lin Ching-Ju (artistic consultancy & text) , Zhan Jie (text coordination) , Hung Jui-Wei (text consultancy) , Wei Chun-Chan (text) , Sun Yu-Ning (multimedia) , Huang Wei-Hsuan (multimedia) , Liou Jie (multimedia) , Li Yi-Ching (multimedia) , Lee Kuo-Han (multimedia) , Chuang Chih-Heng (multimedia) , Lee I-Shun (lighting) , Lu Luming (sound composition) , Yang Eugene Chin-yuan (mechanics) , Chen Sam (mechanics) , Nicolai von Rosen (stage tech) , Kjeld Riboe (stage tech) , Christian Boeskov (stage tech) , Cubical Motivation System (mechanics) , Tsou Ken (electronics) , Ying Jie Electrical Co. Ltd (electronics) , Teng Hsiang-Ting (stage management) , Yu Ray-Pei (technical direction) , Huang Chang-Chih (technical direction) , Wu Neo (production) , Søs Krogh Vikkelsøe (production) , Wu T.J (executive production) , Maiken Bruun (production management) , Chen Ling (marketing) , Chuang Han-Ling (marketing) , Anne Borg (marketing) , Peng Fi (marketing design) , Jui-Wei (editor) , Wang Grass (editor) , Chen Yen-Hao (video documentaiton) · Producer: Very Theatre · Co-producer: The Culture Yard · Funding: Danish Arts Foundation, Ministry of Culture Taiwan, Taipei Performing Arts Center, Quanta Arts Foundation, Quanta Computer, Department of Cultural Affaris Taipei City Government
A cultural meeting between the east and the west.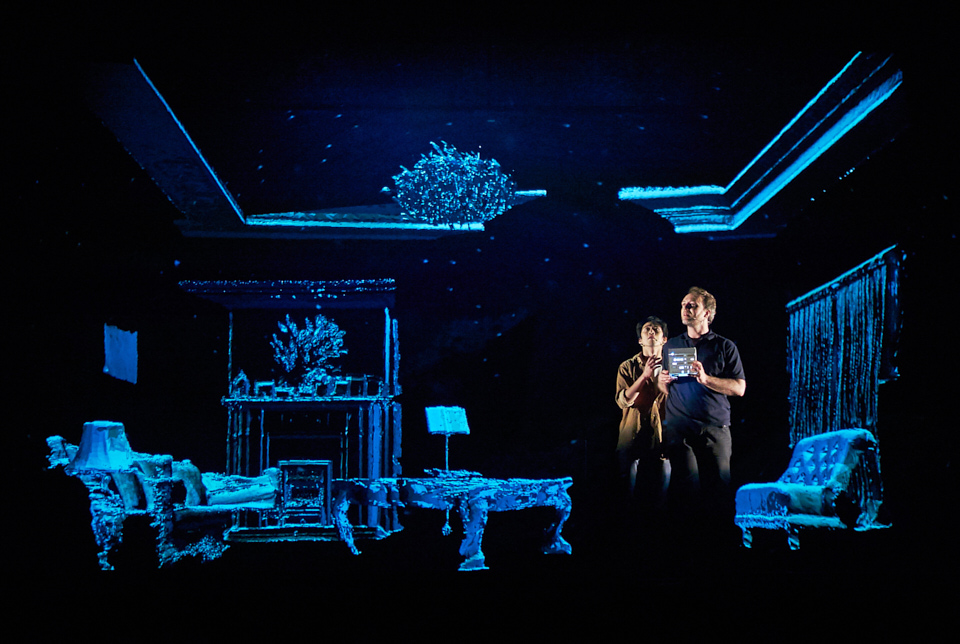 Directed by Taiwanese award-winning artist Chou Tung-Yen, this piece tells a story about two time travelers and their intimate memories light-years away. The actors linger in each other's dreams, trying to hold on to moments from the past. Moments that they don't want to let go, yet are dissolving in the deep sea of oblivion.
Initially examining the idea of "happiness" by contrasting Denmark and Taiwan, the piece matured over three years of cultural exchange. Tung-Yen explores the creative possibilities of the so-called 4D-Box, a theatre stage capable of creating mixed-reality illusions of virtual 3D objects interacting with live performers. To support the theme of dissolving and fragmented memories, he decided to base much of the virtual scenography on 3D scans, working with naturally occurring imperfections (2018) along with expressive particle effects.
In the photo below, the actor Wei Chun-Chan (Derrick) shares a childhood memory, standing on a scan of the actual stairway from his childhood home in Keelung.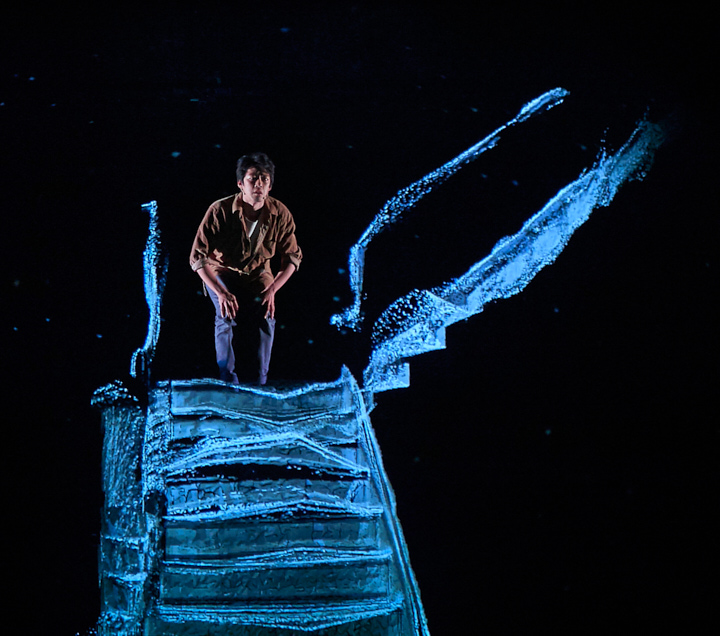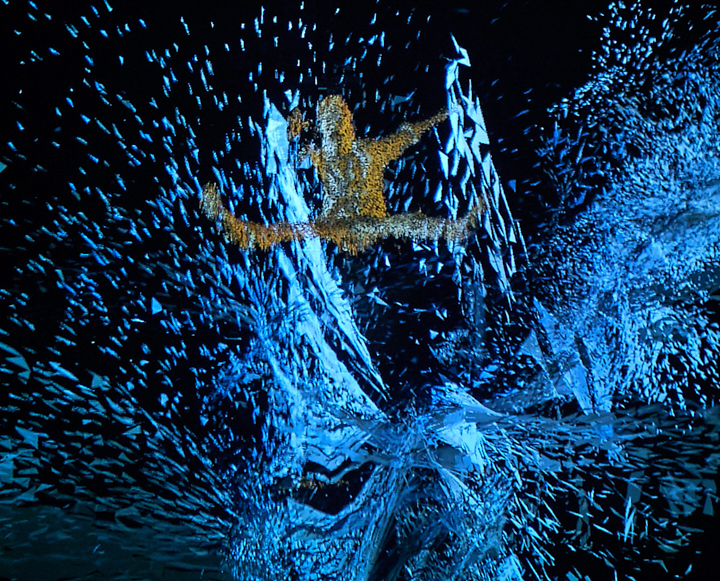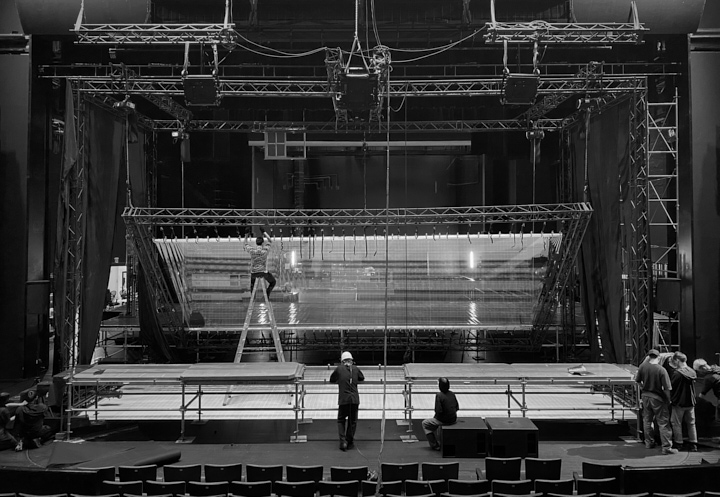 Taichung National Theatre (2022).