Nerve
Musical automata instrument
Shows: SPOR Festival at Århus Musikhus May 10 2008, eARTS at Feng Shui Omniscience Stage (Shanghai) 18-22 Sep 2008 · Partner: Jacob F. Schokking (videorama stage at earts)
Somewhere between order and chaos lies complexity.
Nerve is an automata system that generates rhythms using a real-time kinetic simulation. Rigid bodies are suspended in springs and cyclic forces are added. As the objects bounce around and collide they tend to gravitate towards seemingly "natural" sounding rhythms. Similar to a human hand hitting a drum, a hard impact will bounce the hand further away, cause a longer pause, and in turn potentially result in another hard impact. This dance between the simulated hand and drum can be manipulated in real time by adjusting positioning, shape, size, input forces, and spring properties.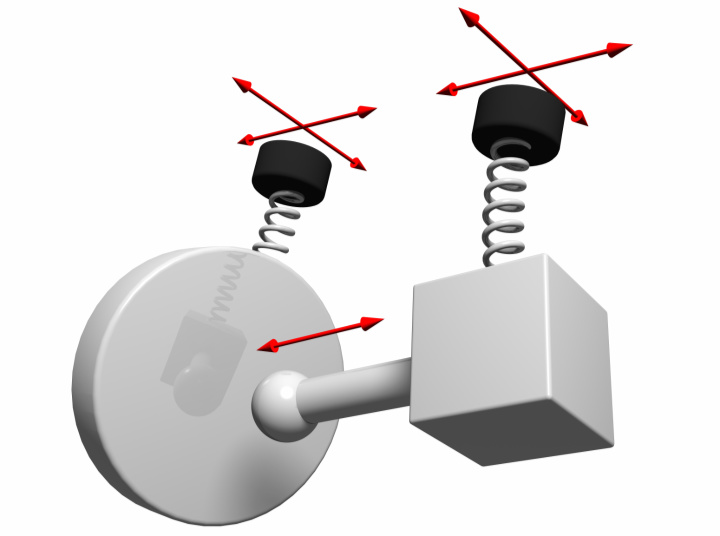 The first version was performed in 2008 at the contemporary music festival SPOR in Århus, Denmark. That year the concept of the festival was to have concerts playing for 24 hours non-stop with the audience staying throughout the night and morning. Nerve was prepared for autonomously generating rhythms for the entire duration of the festival without human interference.
Every five minutes the system automatically printed out a graphic score documenting its recent improvisation. Each score was hung up manually in the hallways of the building. At the time the concert ended a total of 288 scores remained hanging like a visual echo of the event, some of which were taken home as souvenirs by the audience.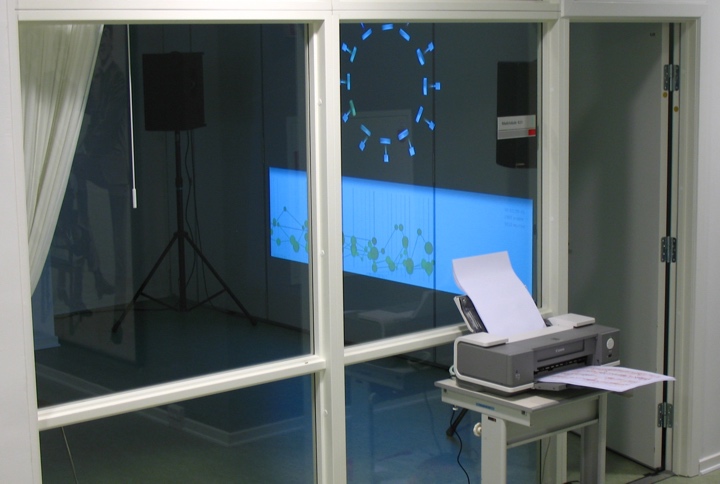 Each score consists of dots representing collisions where size signifies the force of impact and colour differentiates the individual drums. The position on the y-axis represents the distance between the point of impact and the centre of the drum. This gives a good indication of the stability of the system.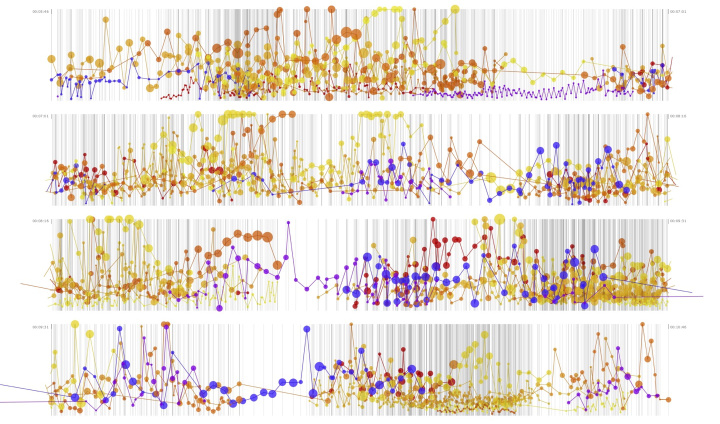 Later in 2008 Nerve was adapted to perform on a 30m wide 15m tall panorama stage at the EARTS festival in Shanghai. Here the concept was to transform the stage into a giant wind chime. Wind direction and speed measured by a sensor were routed directly into the stability parameter of the system while other parameters were controlled manually. Motion from the virtual drummers was applied to an abstract visualisation displayed on the panorama screen.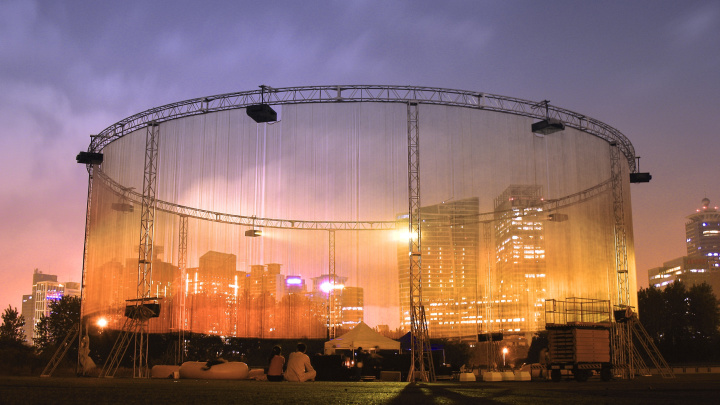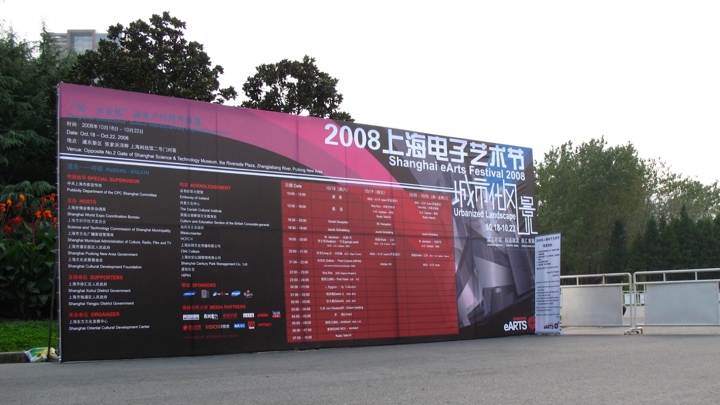 Inspiration for the the project came from a concert composed and performed by Maxime Rioux and his automata orchestra at Western Front in Vancouver BC, 2007. The orchestra consisted of a number of musical instruments suspended from (or resting on) springs. The instruments were oscillated by subwoofer membranes, also attached to springs.